Thanks for stopping by
on this blog today,
While it's important for our continuity to develop
lot's of great evergreen products
like for example the great
Birthday Cards
you can see in our...,
TOP 5
Most Popular products list
That you can see here in the right side bar of this blog ----->

We also have lot's of Great Innovative Products:
Offering you designs on new innovative products such as


for example the special Photo Blocks in our

PHOTO GIFTS Collection and special

Innovative Backpacks.
Frequently Inspiration for New Designs:

We also frequently get sudden bursts of Inspiration for new designs. For example
since 'Spring is in the Air', we got inspiration from some of the great crocusses
we see along the way in our neigbourhood area. Resulting in offering you
Crocusses Leggings with Pattern Designs.





To complement this we also created
matching T-shrits, and Floral Flip-flops. we also
have several great Floral Sunglasses
and Floral Pens




Here below See Some of Our New Designs: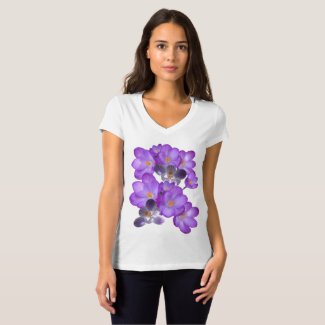 Purple Crocuses Spring Flowers V-neck T-shirt
by EdelhertDesignStudio

Follow Us On Twitter:

EDS Twitter Page

So You Can Frequently Check Out This Blog For - Crispy Fresh - New Blogposts
(You Can Also Just Browse, and have a look at our TOP 5 Most Popular Products here in the right Side Bar ---->>> )
Or check out the,
Comments & Replies
from other readers or the...,